PrimeFish and its sister project Success are participating in the World Seafood Congress that is taking place in Reykjavík (Iceland) until the 13th of September. The congress is organized by the International Association of Seafood Professionals with the aim of exploring seafood innovation, food integrity and food safety.
On the Tuesday, 12th of September both projects are presenting their latest work and research in the following sessions:
- 13:20 – 15:00 Competitiveness and Economic Sustainability: Supply Chain Relations
Opening remarks. Rosa Chapela, CETMAR
Approches to enhance the competitiveness and economic sustainability: PrimeFish and Success projects. Bertrand Le Gallic and Guðmundur Stefánsson, Matís
The economic performance of fisheries and aquaculture. Paul Steinar Valle, Kontali, University of Iceland, Nha Trang University and NOFIMA
Analysis of price transmission and market power in the European seafood value chain. Simon Mardle on behalf of Ignacio Llorente, University of Catabria
The impacts of Non-Trade Measures: Evaluation of fish trade non-tariff measures using choice experiments. Simon Mardle, Fishor Consulting
Development of an integrated strategic-positioning framework for assessment of aquaculture and fisheries business competitiveness in European seafood markets. Francis Murray, University of Stirling
Industry dynamics affecting competitiveness. Mike Park, Scottish White Fish Producers Association (SWFPA)
- 15:20 – 17:00 Competitiveness and Economic Sustainability: Improving Strategic Plans
Opening remarks. Sigurður Bogason, MarkMar and University of Iceland
Successes and failures in the market place. The consumer motives, willingness to pay and attitudes. Olga Untilov, Université Savoie Mont Blanc
The potential for using public procurement to promote (labeled) seafood products. Bertrand Le Gallic, University of Brest
The PrimeFish Decision Support Framework and System. Andrew Baxter, Syntesa
How are the market dynamics and changing patterns of the seafood trade affecting the competitiveness of the sector? Jón Þrándur Stefánsson, Markó Partners
Tools for improving strategic plans for future production and innovation. José L. Santiago, University of Vigo
Evaluating the business strategy and competitiveness of an innovative trout company Dimitar Taskov, University of Stirling
Round Table: The Blue Revolution on food moving towards innovative trends in the seafood sector.
Guðmundur Stefánsson, Matís – Bertrand Le Gallic, Univ. De Bretagne Occidentale – Mike Park, SWFPA / Icelandic Industry – Paul Steinar Valle, Kontali – Rosa Chapela, Cetmar
The PrimeFish project is also participating in the poster competition in the stands 19 and 20. PrimeFish researchers Rosa Chapela, Olavur Gregersen, Petter Olsen or Ögmundur Knútsson are presenting other research endeavors in the congress.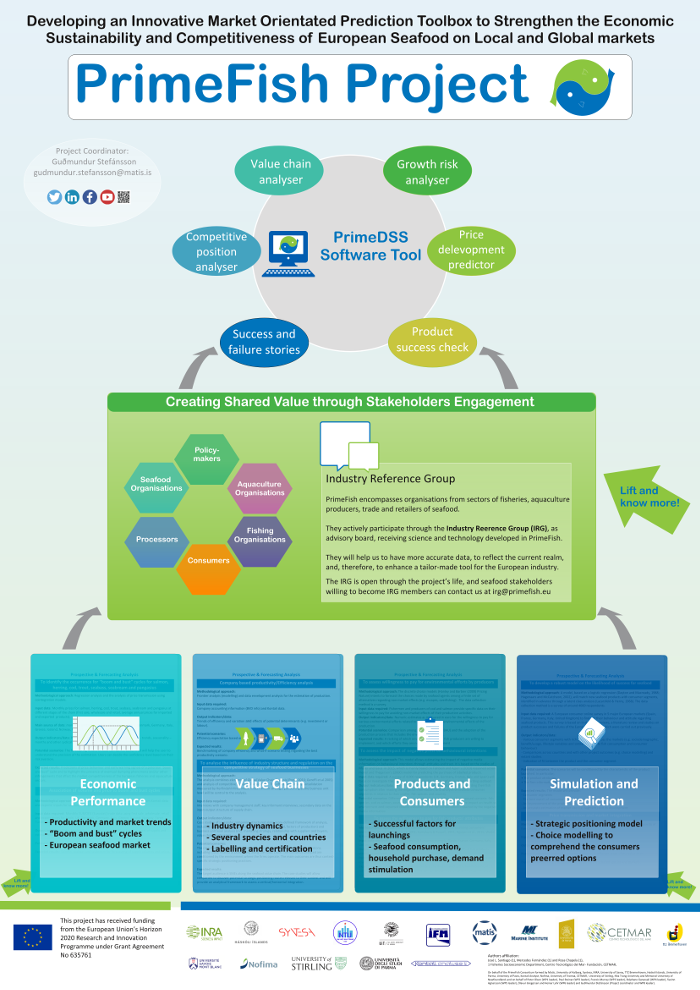 Location:
Latitude: 64.126521
Longitude: -21.817439