The PrimeFish project receives the knowledge and experience of the industry though the Industry Reference Group (IRG). One of its members is Luz Arregui, General Manager of the National Association of Inland Aquaculture (ESACUA) and manager of the Grupo Tres Mares aquaculture company.
The IRG members in a nutshell
Grupo Tres Mares
is focused on the production and processing of freshwater trout and frozen trout. It produces about
3.500 t per year
and maintains its
export figures
between
60% and 80% of its production
. The company represents the 13% of the Spanish trout sector.
In the first PrimeFish meeting, Arregui highlighted the rise on the exploitation costs, for instance, on feed and oxygen over last years. The decrease of cash-flow, due to the global financial crisis, holds back trout producers capacity to negotiate competitive prices with suppliers. In the current socio-economic realm, Arregui considers that "production figures are going to remain stable, as companies decide to maintain the supply according to the market requests in order to achieve price stability".
International trade is one of the core activities for the Spanish trout producers, since they have been flexible enough to meet the different patterns of consumption. For example, Grupo Tres Mares ships frozen trout to the British market or a special package for barbeque to German groceries in summer. However, producers and, therefore, markets receive the influence of a wide array of circumstances, as producers using aggressive commercial strategies to compete in the European market, or the Russian embargo, which forced them to find new markets in a short period of time.
Salmonid trout fillet with lavanda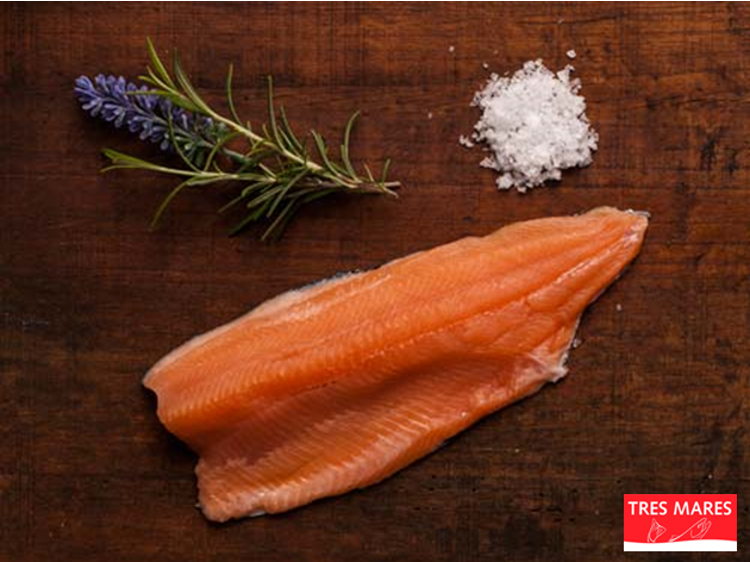 Photo credit: Grupo Tres Mares
Location:
Spanish trout producers target the international market
4 Rúa Marqués de Figueroa
A Coruña
,
La Coruña, Galicia
15007
Spain
Latitude: 43.354232
Longitude: -8.407455