PrimeFish researcher Birgit Hagen, from the University of Pavia, will participate at the Academy of International Business (AIB) (UK & Ireland chapter) Annual Conference in Birmingham (12 - 14 April).
On the 13th of April from 1.30 to 3.00 pm the University of Pavia will present its results on the food consumers segmentation on five European countries in the parallel session 2.3 dedicated to international marketing.
- Parallel Session 2.3:International marketing
Time:Friday, 13/Apr/2018: 1:30pm -3:00pm
Location:106. Session Chair: Dr Jorge Carneiro (FGV Sao Paulo School of Business Administration, Brazil)
- Building Subsidiary Local Responsiveness: (When) Does the Directionality of Intrafirm Knowledge Transfers Matter?
Zhaleh Najafi Tavani, Matthew Robson, Ghasem Zaefarian, Ulf Andersson, Chong Yu
- Similar or dissimilar? Food consumer segmentations across five European countries
Birgit Hagen, Antonella Carcagni, Francesca Sanguineti, Davide Menozzi, Imke Matullat, Sterenn Lucas, Jose Santiago, Dimitar Taskov, Olia Untilov
- Consumer insights in emerging markets towards a qualitative in depth approach
Maureen Benson, Rea, Denise Conroy
- A Successful Business Model of Four Finnish Services Firms in Spain
Antti Valtonen, Dafnis N. Coudounaris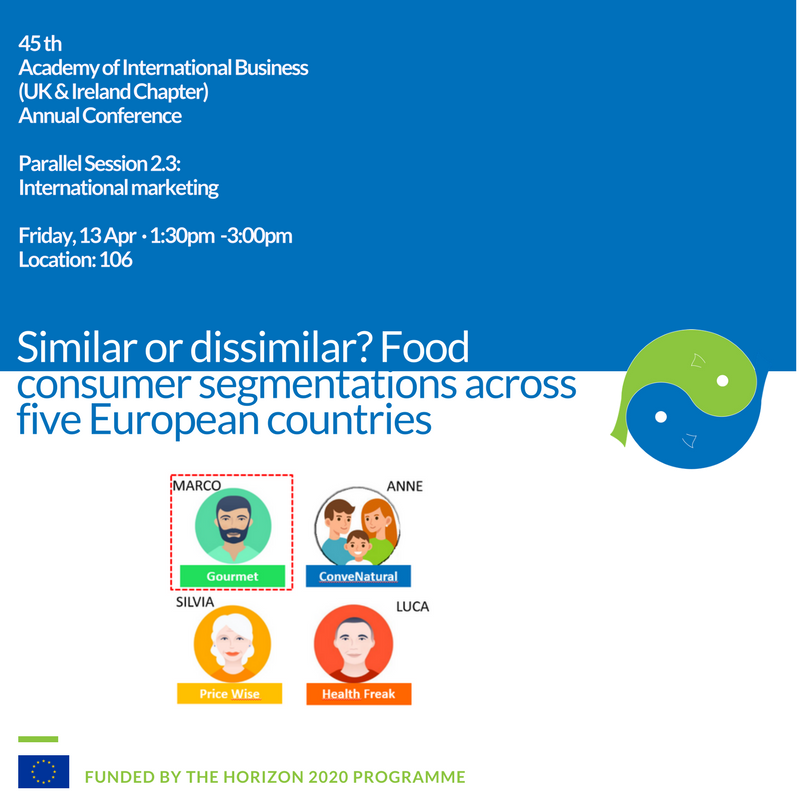 Location:
Birmingham
Birmingham
,
West Midlands, England
United Kingdom
Latitude: 52.486243
Longitude: -1.890401