On the 5th of October PrimeFish will organise a presentation of the project in the frozen fair seafood Conxemar with the participation of PrimeFish coordinator, expert on food products development and innovation Gudmundur Stefánsson, who will present main lines of work of the project and main advantages on the 5th of October from 11.00 to 11.30 am in the stand of the Xunta de Galicia (E13).
The talk will be centered on "Building upon Competitiveness in the Seafood Sector". The PrimeFish project is developing a web-based tool to strengthen the competitiveness of the European fisheries and aquaculture sector through several ways, being some of them the analysis of the innovation in the seafood market, the analysis of the consumption and the barriers and drivers that lead consumers to the fish counters.
Experts on fisheries and aquaculture economy of international research institutes as Matís (Iceland), the Marine Institute of the Memorial University (Canada), University of Iceland, University of Pavia (Italy), Syntesa (Spain – Faroe Islands) and of the CETMAR Foundation will participate in the fair to attend participants inquiries on the project. The meeting will include dynamics to support interaction, review of results and dialogue among the participants.
Interested participants can register in primefish@cetmar.org.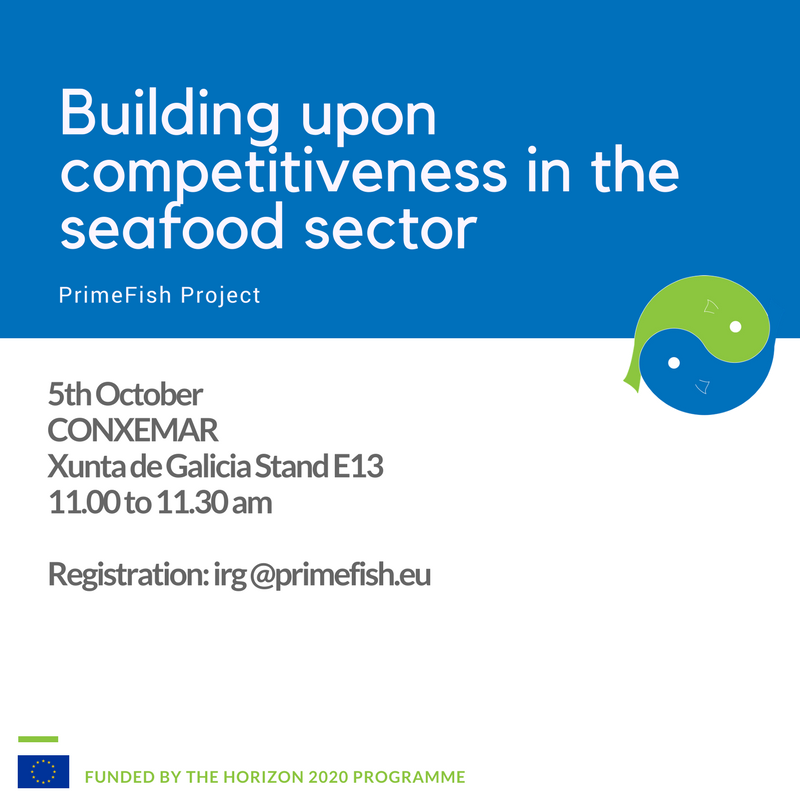 Location:
Instituto Feiral de Vigo (IFEVI)
772 Avenida do Aeroporto
Vigo
,
Pontevedra, Pontevedra
36318
Spain
Latitude: 42.223159
Longitude: -8.637239