On their preliminary outing, experts from the PrimeFish project will gave an insight into their most recent consumer studies at the Fish International 2018 in Bremen. Between June and September 2017, close to 6,000 consumers of seafood from five European countries (United Kingdom, Germany, France, Italy and Spain) participated in three studies whose major goal was to analysis consumer behaviour, attitudes and habits in order to provide the seafood sector with a deeper knowledge of their characteristics, preferences, willingness to pay for seafood products and how they react to negative information published via different media.
"All of this information is crucial to know before entering a market such as Germany, before launching a new product", says project coordinator Dr. Guðmundur Stefánsson, coordinator of PrimeFish and Research Group Leader of Matís ltd. "Currently, the fail rate for new products on this market is up to 70%, very high, and the process of product development and market entrance are very cost-intensive and financially risky" added Dr. Stefánsson.
The PrimeFish software tool: PrimeDSS
"Data is the driver of our information society", says Dr. Heiner Lehr, software innovation specialist from the PrimeFish project. Based on the big data collected from these studies, several models are being developed to analyse the likelihood of new seafood product success and the analysis of prices. Finally, the models will be integrated into a software tool (PrimeDSS) allowing users such as firms or policy-makers to explore, search and download the outcomes of this research. "The PrimeFish Decision Support System (Prime DSS) will help create new products and adapt existing ones to successfully enter different European markets." explained Dr. Lehr.
What are the characteristics of German consumers of seafood?
The first of the studies is focused on market niches and was conducted from partner University of Pavia. Based on sophisticated data analysis methods the PrimeFish researchers constructed five to seven segments in each country and eleven EU-wide segments, including information on segment size and segment trends. For Germany six segments were identified: most of the consumers in Germany are "health & environmentally-conscious" (33%) and "convenience-brand loyal" (23%). Both segments show a growing trend. Stable consumer segments are the "cooking artist", "healthy cooking artist" (both 12%) and the "cheap brand and taste consumer" (16%). Only 7% of German consumers appear to be indifferent and cannot be placed within any of these segments.
What are German consumers' preferences?
PrimeFish also developed a study on consumer preferences and willingness to pay (WTP) for seafood products. This study was led by partner University of Parma. Regarding choice, the most preferred fish by German consumers are salmon (25%), trout (16%), pangasius (14%), herring (12%), cod (10%), seabass (7%) and seabream (6%). Ready to-cook products are generally preferred compared to whole (or round cut) fish and fillets, except for salmon, where fillet is the preferred option. Germany stands out amongst other countries because of the importance of sustainable certification. The sustainability label is generally appreciated for all species, but its role is even more prominent in the case of seabass and seabream.
How much are German consumers willing to pay for seafood products?
The German consumer segment with the highest willingness to pay (WTP) for all fish species consists of young males and females with medium-to-high education levels, high incomes and mostly living in small family units (one or two members). In other words, the typical DINKS: double income no kids. Germans would pay more for ready-to-cook products compared to the whole or round cut fish, especially in the case of pangasius, cod and seabass. In the case of sustainability labels, seabream, pangasius and seabass show the highest WTP, whilst in the case of nutritional and health claims, the identified species are pangasius, seabream and salmon.
Further comparisons amongst countries will be developed to support the decision making of interested organisations.
How do German consumers react to negative information on seafood?
PrimeFish researchers conducted an experimental study to assess how consumers may change their attitude towards salmon consumption after reading a negative message about health or environmental issues from an official government source or an informal blog. PrimeFish partner University of Savoy Mont Blanc managed this investigation.
In general, the research concluded that German respondents perceive salmon as tasty and are not concerned about its production methods. However, after reading some negative literature, consumers showed a worsening perception of salmon in relation to its environmental impacts, sustainability and health issues in terms of being a healthy and safe food to consume. After the experiment, the majority of respondents were predisposed to be more attentive when choosing fish by paying more attention to the country of origin, production method and the number of contaminants.
Presentations are available in the following links:

The PrimeFish Project: Building Competitiveness in the Seafood Sector
Gudmundur Stefánsson, PrimeFish coordinator

Who's Your Target Consumer? PrimeFish Hints and Tips on the German and European Seafood Consumer
Heiner Lehr, software innovation specialist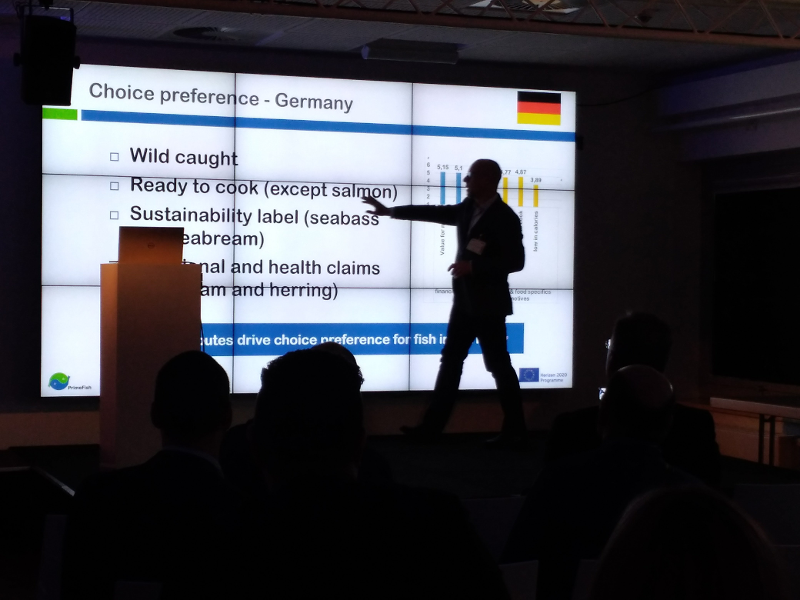 Location:
Latitude: 53.079296
Longitude: 8.801694